Current situation
The situation in Afghanistan has deteriorated dramatically since the Taliban took power on 15 August 2021. The de facto government is not recognised internationally. Pandemics and droughts are exacerbating an unprecedentedly fast collapse of the Afghan economy – in 2021 alone, hundreds of thousands were displaced internally in Afghanistan or fled to neighbouring countries, half of the population is affected by hunger. Afghanistan has become one of the biggest humanitarian emergencies worldwide. The economy is collapsing, droughts, the COVID pandemic and the winter are aggravating the crisis.
The international community has not been inactive. Germany alone has provided 600 million euros to reduce the impact of the humanitarian disaster and prevent the region from becoming destabilised. The money has been used for humanitarian assistance, structural transitional aid and basic needs both in Afghanistan and in neighbouring countries – for instance, to support Afghan refugees and host communities.
The BMZ is contributing 250 million euros to the crisis package totalling 600 million euros that has been made available by the German government. These funds are being used to support the people in Afghanistan and Afghan refugees in host countries in the region. The graphic below shows how the funds are distributed.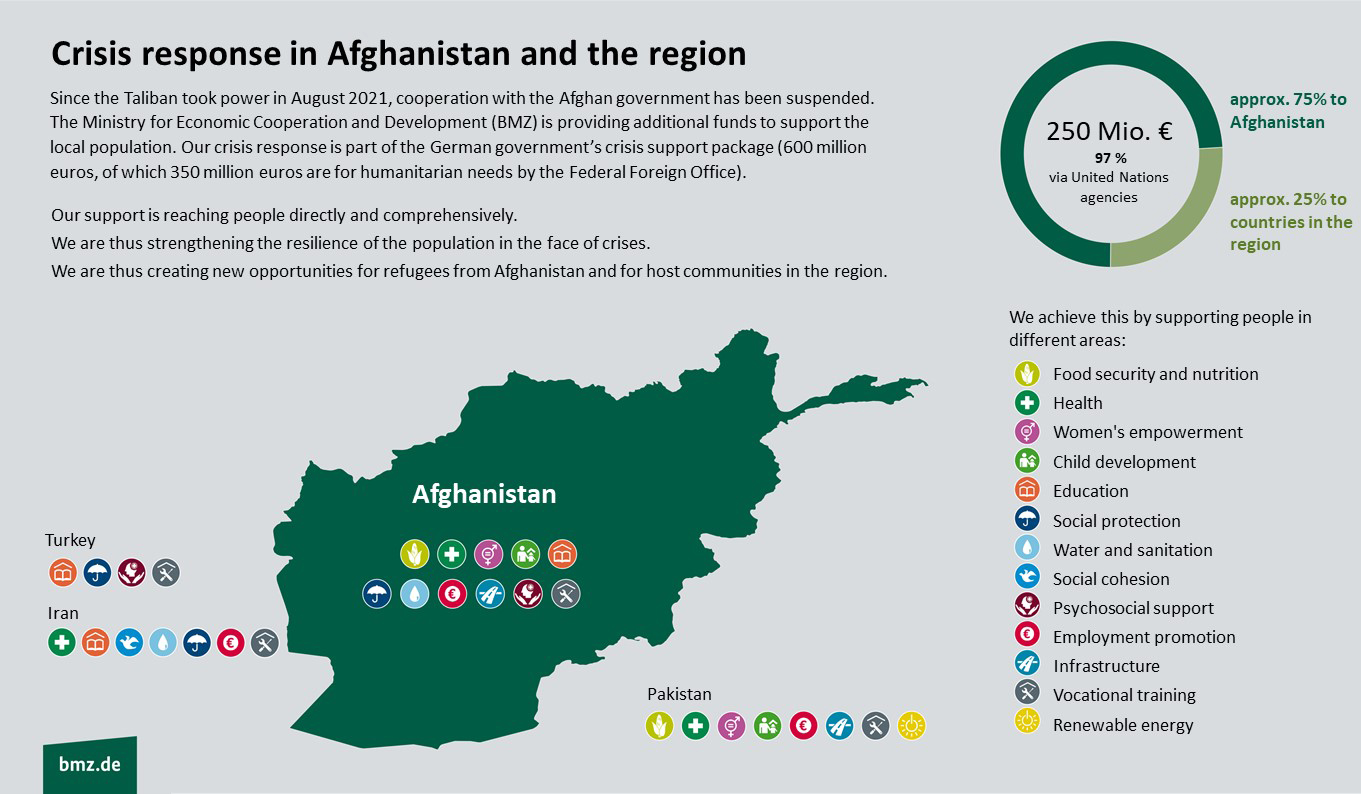 The United Nations and non-governmental organisations are indispensable partners for food security, education, health care, psychosocial support, employment and social protection. It is crucial that the support directly benefits the Afghan people.
Gains achieved as a result of our activities until now
Since the first international deployments to Afghanistan in 2002, German development cooperation activities have been instrumental together with other efforts by the international community in improving living conditions in Afghanistan:
The number of children in school is twelve times higher than it was and currently stands at more than 12 million. Girls in particular have enjoyed the benefits of this increase.
Thanks to the development of the electricity supply network, more than one million people have been supplied with energy.
Per capita income has increased fourfold.
Life expectancy has risen by nine years since 2002.
87 per cent of Afghans have access to health care services (compared with 8 per cent in 2001).
70,000  new household connections for drinking water have been installed thanks to German development cooperation.
Support for internally displaced Afghan citizens and Afghan refugees in neighbouring countries
Even before the Taliban takeover, Afghanistan was the country of origin of the third highest number of refugees in the world (after Syria and Venezuela), with more than 2.5 million Afghans so far having had to leave their homeland. Most refugees stay in the local region.
There is urgent need for immediate action to strengthen international support in order to provide assistance for the growing number of internally displaced persons and refugees in the immediate neighbourhood.