Germany joins the International Solar Alliance, which had been initiated by India, and increases its cooperation with India on climate policy and renewable energy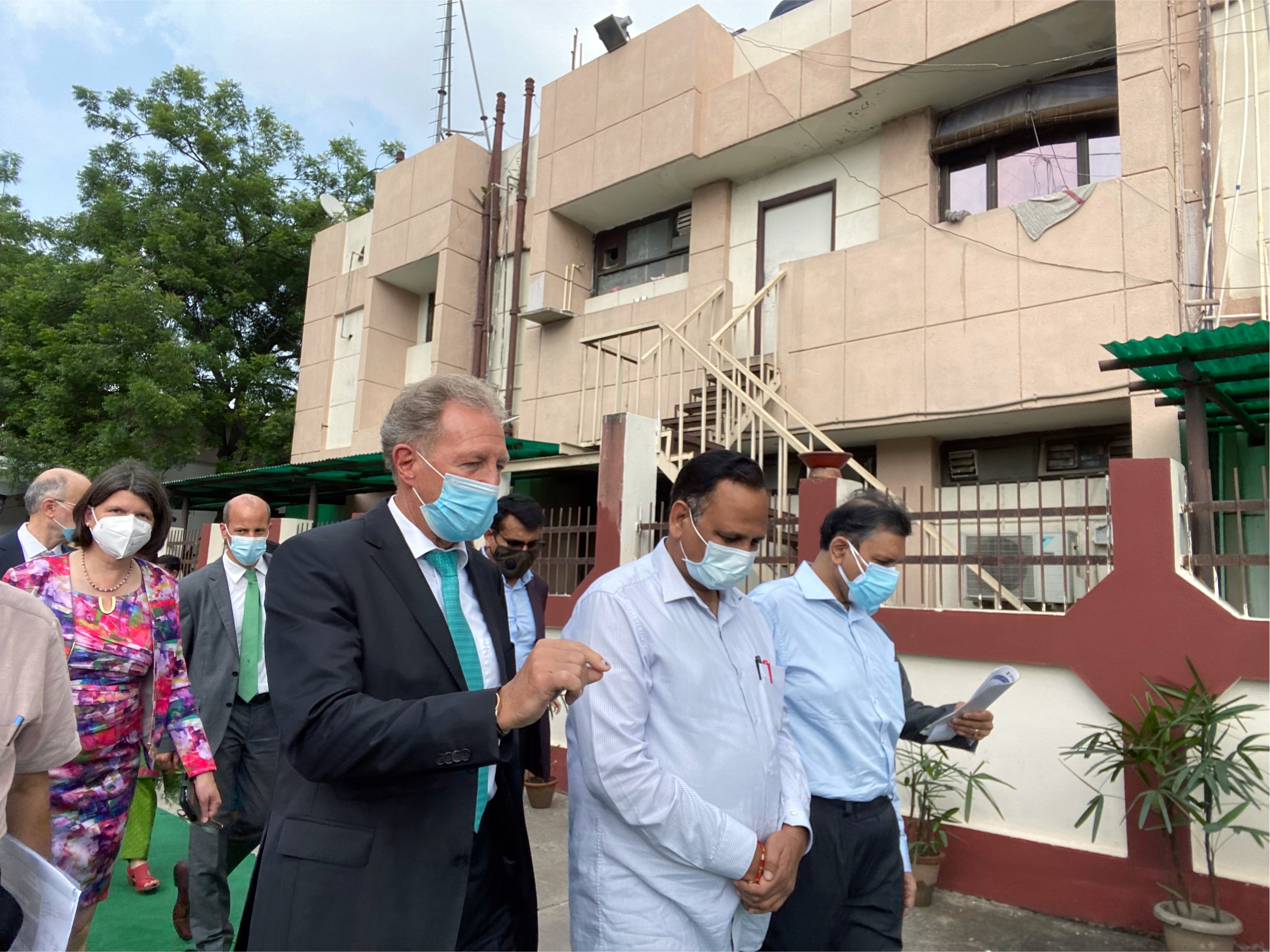 Parliamentary State Secretary Maria Flachsbarth said: "In addition to reducing greenhouse gas emissions, climate policy also means adaptation to climate change, and this is also true for India. What we saw in Germany this summer in terms of flooding is something that people in India see every year, in the form of cyclones and heavy rains, but also in the form of droughts and heat waves. We therefore agreed with the National Disaster Management Authority, the Environment Ministry and the Finance Ministry that we would continue our cooperation on adaptation planning and, in particular, make headway on financing solutions to provide better protection against climate disasters, including for the poorest people. The Indian side is currently giving consideration to India's joining the InsuResilience Global Partnership, which I co-chair and which is a G20 initiative with a strong focus on adaptation and insurance solutions."
Parliamentary State Secretary Norbert Barthle said: "Economic development and climate action go hand in hand – provided that policymakers put in place the right framework. We talked about this in depth with the Energy Minister and the Skill Development Minister. We are witnessing a boom of solar energy in India. Power generation on the basis of coal needs to be gradually replaced by renewable energy sources. That is why we have close cooperation with India in the solar sector through reduced-interest loans, technical advice and vocational training. In this way, we are helping to facilitate the transition to climate neutrality in India, too, while simultaneously providing jobs and better opportunities for India's 1.4 billion people."
During their visit, the Parliamentary State Secretaries handed over Germany's accession document to the International Solar Alliance, which had been signed by Germany's Federal President.
Norbert Barthle said: "By joining this India-led international organisation for the promotion of solar energy, Germany underlines its support for a global energy transition, for the requisite technology and market development, and for the focus on closer cooperation with developing and emerging economies."
In the past few years, Germany has committed more than one billion euros per year for its cooperation with India, mainly in the form of reduced-interest loans, but also in the form of advisory services. The purpose of this cooperation is climate change mitigation and adaptation and the achievement of the SDGs, especially in the fields of energy transition, green urban mobility and resilient cities, and forest, soil and water protection, working together with the rural population, which is usually very poor. A similar level of commitments is planned for 2021. The visit served to facilitate the political preparation of these commitments.
Another important focus of the visit was the expansion of cooperation on agroecological farming, especially with a view to providing a scientific basis for the contribution that such farming makes towards food security, higher incomes for poor farmers, and mitigation of the impacts of droughts and heavy rains.
Maria Flachsbarth said: "In our cooperation, we are able to build on a vibrant social and political movement for agroecology in India. However, this movement requires more international support and access to financing and markets. We want to support this together with a broad range of Indian partners, from civil society all the way to industry and farmers' associations, banks, and start-ups. We count on the leadership that needs to be provided by India's Agriculture Ministry, which Minister Tomar already announced in April this year."
The visit also included meetings with Indian scientific institutions, where the visitors were briefed on achievements and challenges in India with regard to the COVID-19 pandemic, and also on good experience India has gained in the field of One Health. In that context, UNICEF particularly highlighted the quick and effective assistance which the German Development Ministry had provided at the beginning of the COVID-19 crisis.
Maria Flachsbarth said: "It is a great achievement that our emergency assistance of 40 million euros has reached the most needy and the poor rural regions quickly and directly. We will build on this success when we send a German Epidemic Preparedness Team (SEEG) to India in November this year."
During meetings with representatives of India's civil society, it became clear that the space for civil society players to work with marginalised groups and minorities, and also their space to address broader issues related to sustainable development, is increasingly being restricted. In their meeting with the External Affairs Ministry, the Parliamentary State Secretaries voiced Germany's concern about this development.
These are some of the achievements of Indo-German development cooperation:
Support for the installation of 3.37 gigawatts of renewable energy in India
Provision of advice and investment funding – thus contributing to the saving of some 83 million tonnes of CO2 each year (equivalent roughly to the total emissions of Chile); a large proportion of these carbon reductions has been achieved through the energy efficiency trading scheme for large industrial consumers, the Perform, Achieve and Trade (PAT) Scheme
Sustainable, climate-smart management of some two million hectares of land and forest areas
Improved livelihoods and higher incomes for some two million people thanks to sustainable resource management